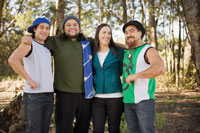 A new role-play sequence called TIWAWE helps learners understand the grammar points and vocabulary taught in TŌKU REO,
The characters give real examples of the learning points that Raimona and Raukura have gone over in each episode.
The actors are:
Wiremu Sarich
Kura Forrester
Hoete Mitai-Ngatai
Ross Mahuika Rawiri
WIREMU SARICH
Wiremu Sarich returns to the acting team for TŌKU REO's third series.
In addition to acting on previous series of TŌKU REO, Wiremu worked as a floor manager and camera operator. He also floor managed the Kura Productions series Pukoro 3, Search4Stars and Kōwhao Rau.
He studied for two years at the Manukau Institute of Technology on the Pokaitahi Reo Maori Course and a Diploma in Maori Media Studies.
Wiremu is proud to be involved with a kaupapa dedicated to Te Reo Maori and aspires to one day produce his own kaupapa driven shows.
KURA FORRESTER
Kura Forrester graduated with a Bachelor of Performing and Screen Arts (majoring in acting) from Auckland's Unitec in 2006.
Since then, she has appeared on Kai Korero, worked as Production Assistant for Homai Te Pakipaki and acted in the 2008 stage production of Whero's New Net. This play re-launched and toured New Zealand in 2009.
Kura has also worked as a drama teacher and is an experienced barista and waitress.
HOETE MITAI-NGATAI
Hoete Mitai-Ngatai is experienced concert performer having won the Rotorua Young Achievers Award in 2006.
Most recently, Hoete worked at Mitai Holdings Ltd in Rotorua as a Kapa Haka performer, bar man and presenter.
In 2009 he came to Auckland to work on Maori Television's Haa as a presenter, researcher, Producer and Director's Assistant.
Hoete is fluent in English, Maori and Spanish and is a New Zealand Development Black Sticks Hockey Player.
ROSS MAHUIKA RAWIRI
Since 2007, Ross Mahuika Rawiri has worked at Kura Productions in several capacities. He graduated from South Seas in 2006 with a Diploma in Film and Television (specialised in editing) and has since edited a majority of programmes under the Kura Productions' umbrella.
Ross aspires to be a music producer and in 2009 was involved in the production and drumming of Māori album, Te Aratoi.
Ross is also a talented sports player, involved predominantly in rugby and basketball.
Past Presenters
Kuirangi Pakinga-Waaka
While, Kuirangi has always had a strong passion for performing arts, TŌKU REO marks her first acting role.
She has previously presented for Tawharau Productions on their documentary, Nga Ao e Rua.
Having recentlyachieved her National Certificate in Journalism, Kuirangi was also a teacher aide at Te Kura Kaupapa Maori o Te Koutu and has been a Kapahaka tutor at Te Wharekura o Te Kaokaoroa o Te Patetere, Putaruru.
Kuirangi gained most of her performing experience at Mitai cultural experience & Te Puia Tourism Attraction in Rotorua as a cultural performer.
She is fluent in threelanguages - Maori, English and Spanish, and has spent time in Oaxaca Mexico and Missouri as a student experiencing the different aspects of the cultures.
Kuirangi has gained confidence and discipline from her work to date, and looks forward to more acting roles and work in the television / media industry.
Maruia Jensen
Maruia spends most of her time as a tutor for various schools and Kapahaka groups in the Northland region. She loves the various aspects of performing arts – composing, tutoring and development of the programme with the students.
In 2005 Maruia attended an acting and camera skills workshop where she found her passion for film and television.
In 2007, she auditioned for the first series TŌKU REO and successfully landed a role as a field presenter providing demonstrations of the Maori language examples. A natural actor, she is excited to join the cast of Tiwawe Driving Academyin TŌKU REO 2.
In 2007 Maruia also found time to complete her Bachelor of Arts at the University of Otago.
She considers education and the preservation of Te Reo Maori to be very important and her main goal for her future is to teach Te Reo Maori to secondary students and adults.
Makoha Gardiner – aka Whaea Makoha
Makoha has taught in Rotorua secondary schools and wharekura for more than 20 years. While she is no longer a classroom practitioner, she remains involved in education as a consultant, a Board of Trustees member and has been appointed to the New Zealand Teachers Council.
Her unexpected introduction to television came via a request from her whanau working at Kura Productions to be a cluegiver on Kupuhuna. Following that, her son who was also working for Kura at the time as a writer, suggested she audition for her role inTŌKU REO2 as the grumpy, bossy nanny.
She has a commanding presence on camera, but the subtleties of playing a nanny definitely shine through and those who know Makoha know her loving, playful antics, great sense of humour and love of people.
Her major contributions are her advocacy and support to young people and the development of Te Reo Maori within schools and the community. She has been sought after for local Te Arawa events and productions.
She also recently completed a post graduate Diploma of Interpreting and Translating Maori at Waikato University, as well as graduating from the Advanced Maori Language Wananga - Te Panekiretanga o Te Reo.
Mathew (Matai) Rae
Matai (as he is fondly known) graduated in 2008 from South Seas Film Television with Diploma in Film Television and Production – specialising in camera, lighting and audio.
A graduate of Kura Kaupapa Maori o Nga Tapuwae in Mangere Auckland, Matai is strong in his language and is committed to advancing Te Reo for himself and his children. In 2005 he worked in a kohanga reo alongside his kids and has since made his own pathways in the television & media industry.
Always keen to work, Matai has worked on a number of productions as a cameraman, soundie and actor. The opportunity to work as an actor on Tiwaweas the partner of Maruia and owner of the driving school was fun and personally valuable.
"Working in a Maori speaking environment, with a largely Maori crew on a Maori production was awesome," he says.
Presenters
Te Whanake
Tiwawe